Where are you Lydie? Sibling Loss – supporting very young children when a baby dies
Emma Poore
Author and Illustrator.
Welcome
Emma Poore, Author and Illustrator of new picture book "Where are you Lydie?" for bereaved siblings writes for us about Baby Loss and her sons George and Henry following the death of their baby sister.
Nothing can prepare a family for the trauma of a sudden death of a child. There is no definitive guide book, no set of rules for how to manage grief. As Bereaved Parents, we may meet and walk on the same grief pathways together at times, however, the direction we chose or the speed we walk is something only we can decide. My husband and I received no official bereavement support when our baby daughter Lydie died, we found ourselves standing at the start of those pathways but we also had our 3 year old son George standing with us.
10 years on from then and baby loss awareness and support is moving forward, there is a strong and supportive community growing out there but there is still a long way to go.
Baby Loss Awareness Week happens every year from the 9th – 15th October and is led by Sands – Stillbirth and Neonatal Death Charity with the "Baby Loss Awareness Alliance" compiling over 90 charity members. The alliance includes the core working group members; Sands, The Miscarriage Association, Tommy's, The Lullaby Trust, The Ectopic Pregnancy Trust and Bliss. There are in addition, hundreds more charities that support the alliance.
As well as these amazing charities, the work they do and the tireless support they provide, we also have social media support, on line groups and various Baby Loss books that have been published, written by bereaved parents that feel passionately about helping others. We can access all of these as adults if we choose to, we can reach out, feel supported and in turn, support each other to help us try to come to terms with what has happened, to move forward. But what about the very young brothers and sisters of the babies and children that have died? The young bereaved siblings that may be walking with us on that grief path. How can they access support if they should need it? These children rely on us to find it.
After Lydie died we searched for a picture book to try to explain death to George, specifically around baby loss, we couldn't find anything. 4 years ago I searched again for Henry, George and Lydie's younger brother. There were books on Grandparents and pets dying but Sibling loss seemingly didn't exist, not in the mainstream children's publishing sector.
As a society we don't like talking about death if we are honest and as parents we naturally want to protect our children from any pain. The one thing we cannot do however, no matter how hard we try, is to take the pain of death away. I will certainly put my hand up and say I was guilty of this before Lydie died and even for the first few weeks after her death. My husband and I struggled immensely to explain it all to George. We often said the wrong thing without knowing in our desperation to protect him and also battling with our own overwhelming emotions, being consumed by grief ourselves. I said Lydie had "gone to sleep" then George wouldn't go to sleep. Or she had died because she was "ill", then if George was ill he'd worry he would die. Trying to protect George from death had disastrous consequences, his fear and anxiety increased. As a family we felt lost and alone.
Sands Bereavement Helpline helped me to talk about my grief and I learnt about children and cognitive development which was absolutely key to George's capacity to take in what had happened. Children under the age of seven do not have the cognitive ability to understand death or that life functions stop when someone dies. They have no concept of death and are unable to make sense of it or problem-solve like we can as adults. They live in the moment and so I began to see why it was perfectly normal when George would ask a heart-wrenching question such as "Is Lydie cold in Heaven?" and then promptly go out to play and seem fine the next.
As parents, not just bereaved parents, we really do need to be honest with our young children about death, in an age appropriate way. We need to use real words that explain death, no matter how hard that may be for us as adults. We may choose to use the word "loss" as adults but that can be extremely frightening for a young child. We need to use the words "dead and died". For George, the sudden death of his sister had changed his life, the life he had imagined. There were many more questions about death and his sister that he needed me to answer, just because he was 3 years old didn't mean he didn't still feel a profound sense of sadness and loss.
George needed to grieve, but in his own way.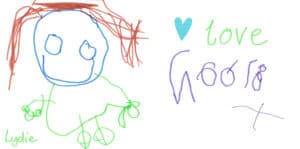 George drew lots of pictures, made things and collected things for his sister. He wanted to put them up on the wall, in her memory box, show them to family and friends. One very special piece of paper was very carefully handed to us to put next to her in her coffin. If he could have fitted one of his teddies in beside her he would have. As a family we put a small collection of things from all of us in with her, but I wish we had had the strength at the time to find a teddy small enough for George to give. Doing all of these things allowed George to express his grief in a safe place, it in turn opened up much needed conversations, either led by George or gently by myself or my husband.
George became more attached to his comforter blanket when Lydie died, he rarely went anywhere without it, he had had it since he was 2 years old. I learnt later that the act of sucking, stroking or snuggling helped to activate George's vagus nerve. He was self-soothing. If he didn't want to talk, he didn't have to. It became a strong non-verbal communication between George and me and indeed for years to come. George also wanted to watch the same familiar programmes on TV over and over again or have the same book read to him every night. As bereaved parents our world had ground to a halt, what we didn't know at the time was that by continuing with George's routine and boundaries it was helping him. His world had turned upside down but routine brought predictability for him. A sense of calm in his storm.
Imaginative play and role play was also George's natural way to work through his emotions and thoughts. George played continuously with a toy ambulance where he had the powers to make everyone better. He also looked for comforting symbols or metaphors when we talked about Lydie and death such as rainbows and stars. Aged 6 years old, George asked if a balloon would take a piece of cake up to Lydie on her birthday. It was the first image I drew for "Where are you Lydie?" my picture book for young bereaved siblings.
Through us being open and honest and talking with George he learned that it was safe to share his feelings and fears with us about his sister's death. We have always let George and Henry lead any conversations we have about Lydie and continue to do so. We talk about her whenever there is a need and she will always be part of our family. The boys continue to collect things for her, a pretty stone or pebble on the beach, a flower. We have all the special ways we bring her in to our lives throughout the year and of course we make her a cake and a happy card on her birthday.
"Where are you Lydie?" focusses on the young age group of 3 – 7 years in a safe and inspiring space in order to explore their emotions. It is a true story of the conversations we had and continue to have and how we choose to remember Lydie on her birthday. Writing about death doesn't mean there can't be an uplifting message, a message of hope, however sad. It allows the child to share in a conversation. It is a facilitative story and guide for parents to start those difficult conversations or the questions that come up…something to start from, to build on.
Summary
The book is endorsed by Sands Charity and recommended by a growing number of bereavement charities and healthcare professionals including The Miscarriage Association, Child Bereavement UK, Compassionate Friends, Shooting Star Children's Hospices and Marie Curie. Over the last year since Emma self-published, the book has reached many grieving families and siblings worldwide. In addition to Emma's website, the book is now available through a number of Hospital Bereavement Departments and Neonatal Care Units, specialist Bereavement Libraries and school settings. "Where are you Lydie?" is also currently available in Sibling Packs for young bereaved siblings provided by The Lily Mae Foundation.
"Where are you Lydie?" is available to buy at https://www.emmapoore.co.uk/ where you can also find out more information and read reviews from families and professionals.
A percentage of book sales is currently being donated to Sands Charity.
Links to resources
  Websites
Sands Charity http://sands.org.uk
Miscarriage Association http://miscarriageassociation.org.uk
Tommys Charity http://tommys.org
Lullaby Trust http://lullabytrust.org.uk
The Ectopic Pregnancy Trust http://ectopic.org.uk
Bliss Charity for babies born sick or premature http://bliss.org.uk
Baby Loss Awareness Alliance http://babyloss-awareness.org/organisations/
Child Bereavement UK http://childbereavementuk.org/
The Lily Mae Foundationhttp://lilymaefoundation.org/


 Books
Why Baby Loss Matters by Kay King
The Baby Loss Guide: Practical and compassionate support with a day-by-day resource to navigate the path of grief by Zoe Clark-Coates
Saying Goodbye: A personal story of baby loss and 90 days of support to walk you through grief by Zoe Clark-Coates
Ask Me His Name: Learning to live and laugh again after the loss of my baby by Elle Wright