Lauren's Home Birth Story
My Home birth story
I've had the privilege of being the midwife for a number of births throughout the last decade (I started my midwifery journey in 2008). I've been present for some utterly breathtaking births, as well as the more humbling and challenging births. This is my second birth experience.
My first birth in 2017 was an elective caesarean section (which I will also write about at some point) due to having previous lung surgery and also baby was breech – although if my second baby was breech I would've still opted for a VBAC, but she remained cephalic (head down). I can honestly say I was not scared at the thought of labour and birth. In fact I was excited! Many people were surprised I wanted to try for a VBAC rather than another ELCS.
In July were beyond elated to find out we were expecting our rainbow baby! Eight months earlier we unfortunately lost a much wanted pregnancy due to having an ectopic. This resulted in the removal of my right fallopian tube, so this pregnancy was extra special.
My pregnancy was relatively easy going – thank goodness with having a toddler! Most antenatal appts were at home as one of my closest friends who I studied midwifery with did most of my checks. I had both midwife and consultant led care due to being asthmatic, having neutropenia, previous lung surgery and because I had a previous Caesarean section. At 23+6 weeks had my first cons apt. During the antenatal examination, the Dr measured my FH (fundal height) – Wasn't sure why she did this as NICE recommend measuring earliest around 26/40. The midwife in me didn't say anything (for a change). She measured a little smaller so referred me for a scan at 28/40. I agreed as wanted to see little one again anyway! 
During the USS, baby was actually measuring a little larger – on the 90th centile. I was then referred to the diabetic clinic to prick my finger  several times a day to gauge my blood sugars and record a diary. Two weeks of monitoring showed normal results, however I had another scan at 32 weeks which showed baby was still on the 90th centile, meaning blood sugar monitoring was continued Two more weeks of pricking and there were 3 slightly higher readings (my diet is pretty crud so I wasn't surprised) This gave me the big fat label of having GDM (gestational diabetes mellitus).
It's an odd scenario – if I was never unnecessary measured early at 23+6 I wouldn't have known I was GDM (or truly GDM?) The cascade of intervention then begins… things can roll into one messy snowball.. one intervention often leads to another. Still keen for a VBAC, I had to weigh up the risks and benefits (I'll write a full list of both in another post). The main risks are shoulder dystocia due to possible GDM (potentially having a 'larger' baby), and scar rupture (from previous caesarean). I could write a lot on 'bigger babies', but will leave that for another post ☺️ there's so much on this from AIMS who I highly recommend reading for evidence based info. 
I knew I did not want to be induced (NICE recommends GDM ladies birth their babies by 40+6). I opted to continue for a VBAC with an ELCS pencilled in at around 41/40. My decision for a VBAC was supported through slightly gritted teeth by two Drs (I decided to book where I've never worked before – change of scenery and all). Understandably risks have to be discussed, but so do the benefits in order for women to make an informed choice. Appointments were a little unbalanced, and in the end I had to pop my midwife hat on and fird out some evidence based research, stats, and even chucked in a couple of Mary Cronk bits. Knowledge is power. 
Scar rupture was brought up at most appointments – in which there's around a 1:200 (0.5%) risk (meaning 99.5% chance of NOT rupturing – language is important). Cord prolapse risk is similar (0.1-0.6% RCOG) – so why are women not counselled antenatally for this given the similar stats? How many women have potentially been pushed into having a caesarean rather than having the option of a VBAC without being presented with true unbiased balance?
I was told (not advised for the sake of clarity – there is a huge difference) I would have to have CTG (continuous fetal monitoring) – which can only be used on labour ward, not birthing centre – again nobody HAS to have anything.
I was also told to think about the midwife who would be "delivering my baby" – Meaning having to think about putting the midwife in an awkward position with regards to GDM VBAC without CTG. Thankfully, most midwives are advocates for normalising birth, and are very supportive of women's wishes. Also for reference; pizzas are delivered, not babies! Saying that attempts to disregard the hard work of the labouring woman! I emphasise, language is really important.
Roll on a few weeks of a lot of bouncing on my birth ball, running around after a toddler, lots of long walks, 1 x curry, some pineapple, quite a number of trips to the loo, some hypnobirthing, a bit of pregnancy yoga, perineal massage, and a lot of malteasers later I started having mild, intermittent contractions (surges) at around 3am on 8/3/20. 
Went back to sleep, and a few mins later my daughter crawled into bed with us (she doesn't normally so she must've sensed something was happening!) Around lunchtime we went for a walk in Morden Hall Park, but the heavens opened so went into the cafe (along with everyone else!) and I started to contract every 10 mins or so. I obviously feel comfortable around food, I remember my daughter falling off the chair mid contraction so I looked like the worlds worse mum leaving her to cry for about 30 seconds whilst husband was getting food (!) After my jacket spud, we went for a walk (upright + mobile = optimal fetal position) for an hour or so, stopping every 10ish mins waiting for the contraction to pass. 
On route home I stopped off at a friends to pick up the positive breastfeeding book by Prof Amy Brown (priorities right). Got home, popped on Aladdin for my daughter as my labour started to progress pretty quickly (was around 4pm and contracting around 2/3:10 by now so I wasn't about the arts and crafts life at that precise time). Jon (husband) was causally cooking a veggie roast whilst I was practising breathing techniques in the lounge leaning on the sofa with my daughter who was none the wiser (I've previously attended the hypnobirthing teacher training with kghypnobirthing and the awesome Kemi Birth Joy).
I called the unit and both the midwife and myself agreed it was better to remain at home a little longer. At around 5.30/6pm labour became quite intense and progressed very quickly. I was now contracting around 4:10 ish. I called my mum so she could come and look after my daughter (she lives near Brighton so ideally I should've called earlier!) I also called my midwife friend whilst on the loo.. was good to hear her voice! My husband called the unit who advised to go in, but by now I couldn't walk more than a metre from the loo (turns out I LOVE the toilet – my safe place where I spent most of my time labouring! I have also been the midwife present for a few toilet births in the past!) I attempted to walk to the car but NOPE! Wasn't going to happen. So remained pretty much on the loo, leaning forward on the sink… My waters broke at 6.45pm – a flying gush of clear water which was reassuring to see, and gave me some relief from all the pressure of a bulging bag of amniotic fluid! My awesome cousin Amber (who is now Skye's godmother) arrived to help look after my daughter and read her bedtime stories – I'm forever grateful for all her support and help. 
I decided to VE (Vaginal examination) myself after my waters went, out of curiosity. I could feel her head just there! I said to my husband you may have to call for an ambulance, as I knew the midwife probably wouldn't make it on time! I was pretty stoked to be having a home birth(!) Jon was incredible at supporting and reassuring me throughout, as well as staying on the phone to the midwife.. top marks for multi tasking!
I remained on my trusty loo, and when the paramedics arrived I slowly took a few steps and made my way to where I subconsciously felt safe and comfortable – on the floor, in the corner, by the fridge! Jon popped our wedding soundtrack on the bose, dimmed the lights and got some towels ready, 10 points! My mum arrived, was relieved to see her! I gave her my phone to record the birth, but bless.. her head was in a different place, so the lovely paramedic filmed instead. The midwife arrived around 10 mins later.. It was an all girl crew (barring Jon!) I was surround by a great team in the perfect environment. The room was full of encouragement, laughs and love! There was a sense of calm, and I felt in control.
There was no fear. Why? Because I felt safe. I understood what was happening. There were no bright lights, disturbances, loud noises or interruptions that would interfere with the involuntary process of birth. Those around me listened. There was no coaching / yelling when to push. My body knew what it was doing and I trusted it which aided a true physiological birth. A big thanks to gravity & hormones – I literally couldn't have done it without them.
At 20.05pm on 8/3/2020 my beautiful, perfect baby arrived earth side!! 
The joy I felt was immense! The room filled with love and relief. Baby and I had skin to skin straight away, followed by a physiological 3rd stage and delayed cord clamping for around 40 mins (#waitforwhite). The midwife checked for any perineal trauma – I had an intact perineum but a couple of upper lacerations which had to be sutured in the unit. I got my fat pants on, carried bub, and gave her first feed in the ambo en route! Her temperature was a little low (with GDM some babies temp can drop a little – I wanted to ensure she had a good feed and kept an eye on her temp). We wrapped her partly in foil, and remained skin to skin – she looked like a mini burrito! Her temp came up beautifully within 10 mins. We arrived at the unit, was sutured, baby was weighed. She was a perfect 7lb 8oz (3570g). I decided to stay the night, as by now it was around 10.30pm. That night I couldn't sleep. I held my Vbac baby in my arms, feeding, skin to skin, thanking the stars I just birthed my beautiful, healthy baby. I am forever thankful. I count my blessings everyday.
There are so many birth folk that I am very thankful for. I've been privileged to meet some inspiring people, one being the legend that is Michel Odent. By sharing research, knowledge and wisdom, women are able to feel empowered which aids a positive birth experience. Thank you Kemi for our phone conversation back in October. You are a breath of fresh air. 
Homebirth isn't for everyone. What's important is that you make a decision based on what's right for YOU. Get familiar with the facts and research. Educate yourself on what matters to you. There are benefits vs risk in everything. How you reflect and feel about your birth will be mostly based on the choices or lack of choices presented, and not necessarily the type of birth you had. Your baby, your birth, your choice. Knowledge is power. And when you have knowledge you feel confident. And when you are confident you are in control.
I'll leave it there as I have 1 x baby on the boob, and 1 x toddler rubbing her sticky face against mine!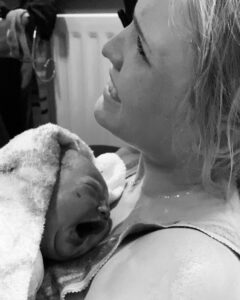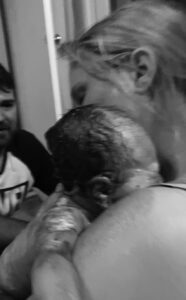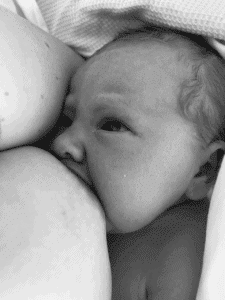 Scroll to end to find the related article…