Using stretch mark oil in pregnancy
Lucie Young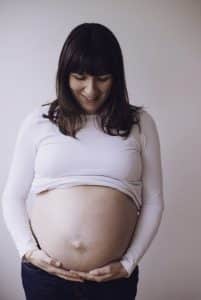 After using various oils for my first two pregnancies and not really loving them as they didn't leave my skin feeling great, I tried Weleda's Stretch Mark Oil when pregnant for the third time and it was a game-changer.
First of all, I was so happy that it was all natural unlike the first one I used which was very popular but felt horrible and I didn't like that it was so synthetic. Weleda felt so different, it smelled so lovely, not overpowering, just a gentle, calming smell. My sense of smell was so heightened that I didn't like strong smelling products so this was great. It also absorbed in really quickly and didn't leave a greasy feeling afterward, my skin felt soft and moisturised.
Even though I always applied stretch mark oils I didn't escape the actual stretch marks. I thought I had until I gave birth and discovered quite a few underneath my bump! My skin feeling tight and itchy was the main reason I continued to use oils in subsequent pregnancies.
As soon as I applied the Weleda oil it just felt so much nicer, softer and not itchy anymore. I used to apply the oil all over my bump and sides and my thighs too, it went on so easily and a bottle lasted for ages. It felt like a nice little pampering experience every time I applied it and I would take the time to connect with my baby too. Those quiet times focusing on my bump were limited due to having two other young children so I really enjoyed giving my bump some care and attention. Putting the oil on would often lead to little kicks or larger ones, as time progressed. It felt so lovely to have that connection whilst I was nurturing my skin on the outside as it felt then that I was nurturing my baby on the inside with the massaging strokes. A little time for just the two of us.
I continued to use the rest of the Stretch Mark oil up after I had given birth as it felt so lovely to still be looking after my skin and help it stay moisturised as it was shrinking back down. I always recommend this particular oil as it is so natural and gentle and really does help relieve the itching and tightness of a growing bump. Oils and lotions may not mean no stretch marks at all, although for some it does, but it does mean some time to be mindful and relax just you and bump. Who can put a price on that! I am now a Weleda representative, you can find me @bohobirthcollective/@naturallylucie.