Skin to skin after a caesarean section
Joanna and Oliver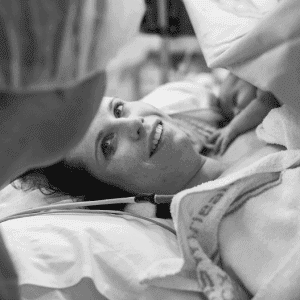 I had a maternal assisted caesarean section due to my baby being breech so the immediate skin to skin contact was so, so important to me.
The fact I had uninterrupted skin-to-skin from delivery right up to the ward helped me heal emotionally from having to have a caesarean section.
The feeling of bringing him up onto my chest and knowing he is my baby is just indescribable.
It was a moment full of emotion. At one point I looked down and he was feeding and myself nor my Midwife or partner recall at what point he self-attached. He had a great feed, he stayed on my chest for a few hours – until I was up on the ward!
He then went skin-to-skin with my partner while I had a rest. And 9 months on he is still a great little breastfeeder and I had next to no issues with feeding or supply – which is amazing considering I had to have a caesarean section.
Scroll to end to find the related article…