Samantha's Birth Centre Story
Pregnancy
According to scans my baby boy was due on the 11th December 2019. I had been tracking my periods and conception dates and I believed his true due date to be 22nd December so I was very keen on holding off as long as possible without intervention. I attended birthing workshops, aquanatal classes & yoga whilst reading every positive birthing' book I could find! It was very important to me to feel safe, empowered and have a hands off approach as I navigated this new experience into motherhood. As a first time Mum I was anxious about pain but fully trusted in what my body could achieve. Initially I wanted a home birth but as my nearest hospital was twenty miles away, my midwife encouraged me to opt for the birthing centre. I had a wonderful pregnancy with healthy scans and only minor sickness and sciatica.
'Over due'
I had kind of expected to go over and although I had planned to have minimal/ no vaginal examinations, my induction date was booked and I was offered two sweep dates. I consented to a sweep at lunchtime at 40 + 10 days and after a 4hr nap I started getting contractions. I steadily had contractions throughout the night and following day. I had my birth plan (beautifully colour coded and printed with a photo of Matt and I!) at the ready & decided I was ready to go in. I was taken through to triage and although I had originally planned for no vaginal examinations I felt I had to in order to be able to stay. Sadly there was no space on Meadow Birthing Centre but it didn't matter as I was 2cm at this point and we were sent back home. Matt cooked dinner for us & I tried to watch The Holiday desperately hoping that things would progress so that I could be back home in time for Christmas. I lasted until about 11pm until needing to go back in. At this point the pain was so intense that when the midwife took me to Meadow (they had space!), I was begging for a section. Thankfully they had looked through my birth plan & laughed with me- they knew what I really wanted. I was examined again- 3cm this time but they said they could 'stretch' me to 4cm & I could stay. I was elated to find that the Cornflower room was available.
Cornflower
The room was ours and we were left to ourselves; I was so grateful of privacy. The room was dark with low blue lighting, a birthing pool, moveable mats/furniture and a ball. Our midwives said to get comfortable and try to get some sleep. Matt pushed together the cushions (almost like softplay equipment) to make a double bed to lie on. I felt safe, calm and relaxed, knowing that it was just us and I wasn't going to be moved. By 1am I was still padding round the room with a hot water bottle, using my Daisy breathing techniques and tens machine. Our midwife checked on me and I asked for more pain relief. I desperately wanted to get in the pool but it was too soon. I had some codeine and carried on in my zone, using the room, the space and my breathing to push through the contractions. The midwife made me up a gorgeous mixture of my favourite oils for the diffuser whilst I used the room to pad around and stay mobile. By 3am I was begging for a section again and thankfully they took no notice of me saying that I could get in the pool now if I wanted.
The water was incredible- better than I ever imagined it would be for the pain. I felt weightless, warm and comforted. I lasted another hour in the pool chatting away between contractions before the intensity got too much again and I was asking for a section again (our midwives had such a great way of laughing with me and guiding me back to my birth plan- I felt like they truly understood me). I was offered entonox at this point and bloody hell that stuff is incredible I tell you! I spent the next 4hours floating in the pool, chatting absolute rubbish to the student and being laughed at by Matt. Matt was amazing, the couple's workshop made all the difference- he was calm, supportive and loving. After all the horror stories I was honestly expecting to be screaming at him; digging my nails into his hands Hollywood style but it couldn't have been more opposite. It was so important to me that Matt be a joint part of the birthing process. It sounds hippy; but I wanted us to do it together and feel all the love that we have for each other and I can honestly say it was the most magical experience I've had with him.
I breathed and breathed until 8.23am Saturday 21st December, our little darling Callum Richard was born in the water. I had put in my birth plan that we wanted Callum to be born between us and that I would lift him from the water. I hadn't made a decision about the placenta at this point but the midwife encouraged me to go for a natural delivery in the water & I'm so glad I did. About 20 mins or so later the placenta was out & I was getting my skin to skin. I was so incredibly proud of myself, of Matt and our little Callum as we sat there admiring him. Matt with his arms around me and my arms holding Callum in the warm water.
Once I had been checked over, the next part of my birth plan kicked in. Our amazing midwives honoured our plan and left us for a good 6 hours in the room with minimal interruptions so that we could get our skin to skin and have that time for the three of us. I am so grateful for this. I had no idea what was to come and that those 6 hours were the only 'normal' hours I would get with my baby ever again.
Callum
Callum was making a strange noise when he was breathing (sounded like a little duck) but everyone dismissed it as a combination of normal mucus from his lungs & water from the pool. Although Callum wouldn't latch, he was very sleepy and I wasn't too concerned as I was hand expressing colostrum onto a spoon and giving it to him. I had a shower, he had cuddles with Matt. Matt showered, I had cuddles with Callum, but I just couldn't shake this feeling in my chest that something wasn't right.
The noise he was making seemed to be getting louder and I asked the midwife to come and check him over. She was concerned too and she inspected his mouth to check nothing was blocking his airway. This is when we saw it, a huge hole- no roof of the mouth whatsoever. I knew it was a cleft palate- she did too but she explained that she needed a doctor to come and check/diagnose him. Before we knew it, we had a paediatrician with us,  then we were taken to TCU and after his oxygen levels were checked and were dangerously low, he was rushed to NICU & in an incubator. We spent the next 6 days there being unable to hold him ( thank god for those 6 precious hours of skin to skin) because every time he was handled or moved, his oxygen levels dropped. Thankfully the time spent on the birthing centre with Callum meant that I'd got a great start to my milk production and channelled all my power and love into expressing for him whilst nobody could give me answers. Christmas came and went with just a few cuddles with Callum and we were waiting for a bed to come available at Birmingham Children's Hospital. We were taken by ambulance on 27th Dec. So Christmas and New Year's were well and truly out the window but I can't thank the staff enough at both hospitals for their emotional support.
We spent the next five weeks staying at the Ronald McDonald House Charity learning about Callum's health condition and receiving training so that we could take him home. He was diagnosed with Pierre Robin Sequence (PRS) a very rare occurrence where nobody really knows why it happens, but the baby's palate doesn't form, the tongue blocks their airway, they have a small chin and often have breathing/feeding issues. Callum will have a childhood full of appointments and support with surgery and speech/language therapy but for now, he is healthy, loved and alive.
I can't help but think how fortunate I was to have the most magical labour and no tears or stitches- this meant that I was able to come back and forth to NICU and care for Callum as much as I was allowed.
Callum's health issues are rare, unfortunate and not genetic. I guess I'm sharing this to help prepare anyone- you can have the most normal pregnancy, a positive birth experience & still have something not go to 'plan' afterwards- and that is OK! For anyone considering the type of birth experience they want, I would highly advise a birthing centre. To feel empowered, in control and natural whilst having the security of being near clinicians should things not go to plan was the best balance for us.
The antenatal prep absolutely made my experience for me too. I was strong, empowered and calm which meant that the midwives could give me the hands off approach I wanted. I was told by so many people – "don't write a plan" and I honestly couldn't disagree more. I know that you don't always get what you want, but if your plan is documented & your partner/midwives know it, then it is one less thing for you to worry about. You can then focus on your breathing, your positive mental state and the amazing thing that is currently happening to your body.
I must be mad… but I'm honestly looking forward to being pregnant again- labour no longer scares me!
Thank you to meadow Birthing Centre at Worcestershire Royal Hospital and my wonderful midwife Helen Tipper for everything; after all the negativity following Callum's birth, I still have the positive birth experience that I can look back on and cherish.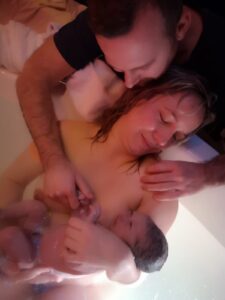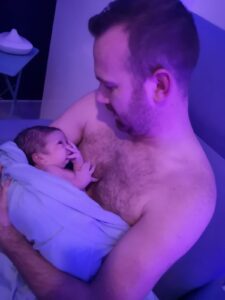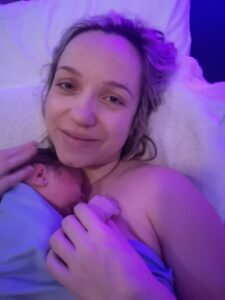 Scroll to end to find the related article…