Abi's Home Birth Story
My home birth story.
Ava was born on 21.10.2019 so pre-covid. Ava is my second child, I also have a 4 year old daughter, Darcie. Her birth was straight forward however there was a lot of intervention near the end which could have been avoided.
This home birth story is regarding the Leicestershire Home Birth Team who I cannot thank enough for the amazing experience.
I decided to look into the home birth team at around 30 weeks with my second daughter after some encouragement from my midwife. It was also something my partner was keen to look into as he felt he would also be more comfortable at home. I sent the team a message through Facebook and they called me the next morning and sent Claire out to see me at my home.
I had a list of questions but decided to listen to Claire first and then ask. By the time Claire had finished introducing herself & explaining everything to me she had already answered the majority of the important questions I had which was a huge plus for me. I was put at ease within 30 minutes of meeting Claire & my mind was made up – I wanted a home birth if possible.
One of my main concerns after mine and the baby's safety, was my 2 year old and wanting her close by rather than me in a hospital miles away, as I felt this would distract me from concentrating on birthing. If we were at home it would give us the flexibility for my partner to come and go to ensure our daughter was ok rather than being stuck in the hospital if it was a long labour.
My last few appointments with the midwives went great and I got to meet a few of the ladies, each as lovely as the next.
All of the chats and discussions with the home birth team came into action when 5 days early on the 21 October 2019 at 1.30am I woke with some discomfort, I wasn't sure if it was labour so went back to bed. By 2.00am however things had got more painful and I called the team, they asked me a few questions and after a good chat we both decided I'd call back in an hour with an update. By the time I called back at around 3.00am I knew things were moving and wanted them here, they reassured me they were on their way.
Jackie & Helena arrived at 4.00am and they were absolutely amazing, very respectful of the fact that I was in a lot of pain by then, so helpful in their suggestions to get more comfortable, some essential oils provided and a back rub was wonderful. They were also brilliant with my partner and just put us at ease immediately. It was clear very quickly that baby wouldn't be long so they got everything ready whilst explaining to us what they were doing the whole time.
By 5.45am our 2 year old had woken, luckily we'd already suspected she'd be up soon and family members had arrived to take her for an exciting breakfast and my partner could be with her until she was picked up without worrying about me as I was in the best hands. At 6am I heard the front door close and knew my 2 year old was safe and that was the last piece of the puzzle as baby number 2 arrived at 6.17am, no complications at all and I did it all myself, no interference needed, I just knew what I was doing and felt like I had the support I needed to be confident in listening to my body.
Truly a wonderful experience and the best best best team of ladies.
Whilst I cuddled my daughter (after she'd been weighed and dad had had a cuddle too), Helena and Jackie had cleaned up, done all the checks and then handed me over to the morning crew (who included Claire who attended my first ever meeting) to finish up. By 8.00am we were left to rest with both of our daughters. Just perfect.
Ava is now 16 months old and she's such a happy baby. I'm sad I didn't get a picture of Ava with the wonderful midwives who delivered her but I was honestly completely overwhelmed by how smoothly everything went I was just on cloud nine.
The aftercare and breastfeeding support we received was also so brilliant. I can't recommend the home birth team enough.
Thank you, Abi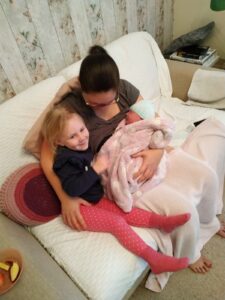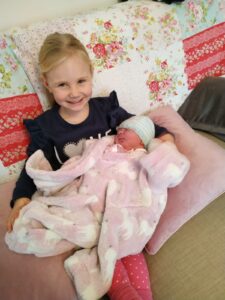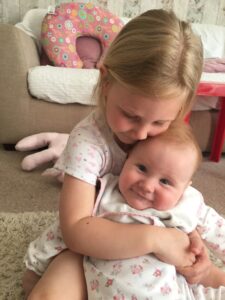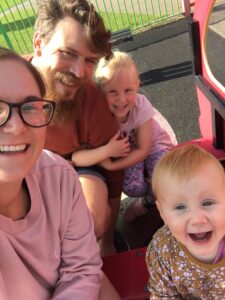 Scroll to end to find the related article…